WEDDING & EVENTS CATERING WITH A REFRESHINGLY PERSONAL TOUCH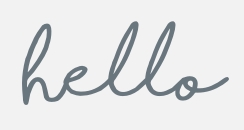 Proprietors Kristina and Lee Timmins have a combined wealth of professional experience in the restaurant & catering industry and bespoke events.
Guess Events at Bartridge Hill represents the marrying of their talents in the place that they both love, North Devon.
Here they have put together a team of hospitality professionals who share their love for this place, love what they do and look forward to welcoming you.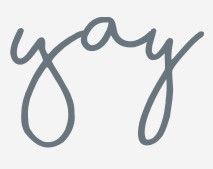 Guess Events at Bartridge Hill are very proud to be the winners of the Bridebook Caterer of the Year Award 2019!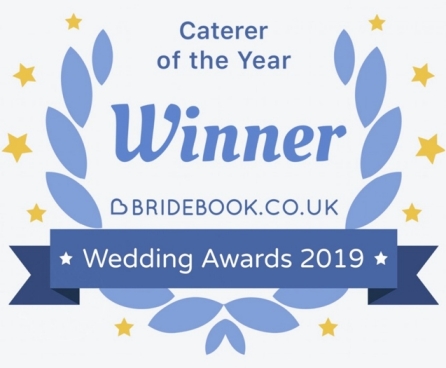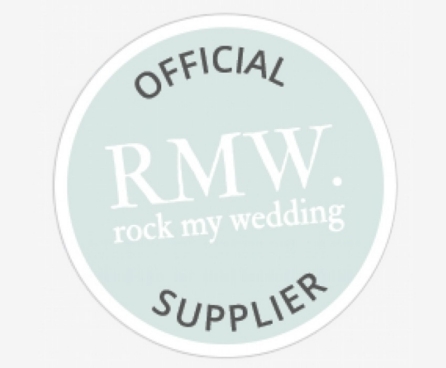 Guess Events are also recommended suppliers with 'Rock My Wedding' the UK's most influential brand in the wedding industry.

"Wow, I can't express how fantastic Kris, Lee and their team are. The tasting was fantastic and the quality of the food was exceptional. The email communication from Kris was great and she always got back to you promptly.
On the day, the service was amazing and all the staff were very attentive and looked after us all. Every guest commented on the food with many saying it was the best they've had at a wedding! We had a great day but it wouldn't have been as amazing without you guys.. Beaconside are very lucky to be in partnership with you guys. Thank you!" Sam & Chris x

"Lee and Kristina were excellent in every way - from our first meeting to leaving us after the meal on the Wedding evening was a joy to work with them.
The Wedding Breakfast food was exceptional and our guests (150) were speechless as to the quality Nothing was too much trouble and their help and
guidance was invaluable. Book them quickly before someone else does and have a fantastic wedding."

"We can't recommend Guess Who Is Coming to Dinner highly enough. They are quite simply superb. The staff under excellent supervision from Kris and Lee are friendly, efficient and professional. The whole experience from tasting session to the wedding day was faultless. Nothing was too much trouble and all our expectations were met and exceeded. The food itself was incredibly good, and we had fantastic feedback from so many people. The evening barbecue was also fantastic, freshly cooked and very good quality. Thank you so much for a job well done." Mary and Tim

"We were invited for a tasting before choosing the food for our wedding and, at that point, I knew we were going to have the best wedding food ever. Kris carefully helped me choose a great menu for my guests and, on the day, the food was carefully served and was as beautiful as the dishes we had tried all that time ago. I would thoroughly recommend Lee and Kris who made our day amazing and our guests are still talking about what they ate!"

"Kris & Lee did an amazing job. Myself and my husband were extremely pleased with how good the food tasted and all day we were getting compliments from all our wedding guests on how great it all was and that they haven't tasted anything as good before. We were so happy. Will deffo recommend and use again. Thankyou so much. It made our wedding day. x"

"Guess Who Is Coming to Dinner were a fabulous catering company to have at our wedding! Kristina was so professional and helpful, she was amazing to have around before and during the big day!! Everyone at our wedding commented on how fantastic the afternoon tea was, and the vintage china looked so beautiful in the barn venue!! All of the staff were very professional and quick to fill up drinks! Presentation was key and everything on the tables looked lovely. The hog roast was also a big hit and people were going back for third helpings! I would highly recommend Guess Who Is Coming to Dinner for your wedding day!"

""Kris and Lee did a sensational job at our wedding! We had an absolutely amazing time, everyone commented on how much they loved the afternoon tea, and apparently people were going back for second and third helpings at the hog roast! Kris handled everything professionally and everything flowed smoothly. The tables were laid beautifully- I'd recommend the vintage china!
Thank you so much for a perfect experience."

"All too often you go to weddings and you get lukewarm, poorly presented, mass produced, over or undercooked food with a vegetarian option that can at best be described as an afterthought. Not so here! Each dish from canapé to coffee was thoughtfully prepared and presented as though for the individual rather than the masses. It can be hard to find independent providers of good quality local food particularly in rural areas, but Guess Who Is Coming to Dinner made it look effortless. Cheerful and professional staff with a genial chef and event manager made the organisation seamless. I would heartily recommend them."

"Guess Who Is Coming to Dinner catered our wedding in the summer. The lovely Kristina and Lee were so friendly and helpful right from the off, the whole process from planning to tasting to discussing lots of great ideas and suggestions was a joy, and their knowledge, expertise and experience were invaluable in putting everything together for the big day, (which went like a dream). Their professionalism and attention to detail are second to none and the food looked and tasted exquisite, all our guests commented on how wonderful and delicious the wedding breakfast was. If you are looking for exceptional service, and wonderful food look no further."

"Kristina and Lee were incredible throughout the planning process. They really went the extra mile, with the most incredible amount of food at our tasting to make sure that we got it just right. Our guests have since raved about the food - and those with dietary requirements were particularly grateful for the attention to detail in finding them during the drinks reception to ensure that they got the right canapés. We cannot thank you enough."Sophie & Chris x

"Guess Who Is Coming To Dinner had been our first choice after catering for my sister's wedding the previous year and we were chuffed to bits to be able to book them. Planning our wedding in 5 months was no easy feat and we were overwhelmed by the dedication shown by Kris, Lee and the whole team in the planning stages and the actual day! We had a lot of food allergies in the wedding party but Lee was able to work around all of them to create exactly what we wanted! Delicious roast for our wedding meal and much needed bacon/halloumi rolls in the evening. Nothing seemed too much for these guys and we are eternally thankful to them for their hard work ensuring our wedding day went smoothly. Thank you Kris and Lee!! Xx"

"It was my sisters wedding in September 2017, Kris and Lee were a huge part of making sure the day went perfectly. They were amazing at making sure everything went smoothly, from helping with the planning before-hand to the management of the day . Every single guest there was raving about the food and the team! In fact they were so good that my fiancé and I are hoping to book them for our wedding! A million thanks again for helping Mr and Mrs Cook start their married life so perfectly!"

"Guess Who Is Coming to Dinner are the real deal. Kris and Lee are one of a kind and both me and my bride have said our day wouldn't have been the same without them. From the very start we knew they were the professionals that could envisage our dream wedding and create it. They orchestrated the whole day with their thorough planning, friendly advice and helpful tips which created a day that me, my wife and every single guest was astounded with. From the bottom of all our hearts, thank you so much for what you and your staff did on our weddding day. We will remember it forever."

"Thank you so much to the whole Guess Who Is Coming to Dinner team for catering our wedding. The food was amazing, staff super helpful and efficient and Kristina and Lee so accommodating to or changing ideas and requests. Was an absolute pleasure working with your team. Thank you!"

"Kris and Lee at Guess Who Is Coming to Dinner were absolutely the right choice for our day. Their attention to detail, their communication and their ability to make mouthwatering dishes left us and all of our 95 guests absolutely delighted with the results. We went for an Italian theme but with a BBQ main to keep it relaxed and informal. The canapes were beautiful and divine, served at just the right time by delightful staff members, the 'antipasto' were perfectly executed, coming out one after the other like you would experience in a true Italian setting. The ingredients used were local and sustainable, which was important to us, and the BBQ food was cooked to perfection - no tough chicken or steak. The fish was an excellent surprise, probably my favourite of the choice, which is unusual for me. Kris and Lee engaged with the guests whilst serving the food and we had extremely good feedback from so many of our guests about the quality of the food. I would absolutely recommend them for any type of event and hope they win this much deserved award. Thank you!"

"I honestly don't think our wedding would have been the success that it was without Kris & Lee and the team. We are from Yorkshire and were getting married in Cornwall and so conducted extensive research into suppliers in the area. Having spoken to several, I found Kris & Lee to be the most knowledgeable. They listened to everything we wanted for our guests and for ourselves regarding the food, and produced a tailored menu based on our tastes and themes that we wanted to incorporate. From start to finish Guess Who Is Coming to Dinner were consultative, professional and organised. As most couples can probably appreciate, planning and organising a wedding is a massive task, and I feel that Guess Who Is Coming to Dinner went over and above their responsibilities to make sure we had an amazing day. Feedback from our guests about the food has also been fantastic, including saying that it's some of the best food they've ever experienced at a wedding. Not only is the food that Guess Who Is Coming to Dinner create amazing, their service is also smooth, seamless and responsive to guests needs. We had several guest that had special dietary requirements and Guess Who Is Coming to Dinner made sure that they were catered for with fantastic alternative options. There really isn't anything they can't accommodate. You probably won't find a better supplier in the Devon & Cornwall area. I wouldn't hesitate to recommend them to anyone."

"Guess Who Is Coming to Dinner are the BEST. When we first approached them to cater for our wedding they were lovely, warm and like family. Then we told them our idea - we wanted a beautiful Indian meal for our otherwise traditional Devon Wedding! And they didn't run a mile - but were brilliant coming up with amazing ideas. Even combining the grooms favourite pudding - Eton Mess with the Bride's - Passion Fruit Parfait with Mango Coulis and creating the 'Eastern Mess'. We had the best wedding meal - everyone at our wedding agreed! Lots of love and luck to Guess Who Is Coming to Dinner xxx"

"Kris & Lee. Sorry it has taken us so long to say a HUGE thank you for all that you did for our wedding. Your personal service in planning the day was exceptional, from suggesting menus to leasing with Micky! to the full set up and delivering exquisite food to us and all our guests on the day. Kris- your organisation and reassurance was so appreciated and Lee- we are still having friends and family asking how on earth you prepared such a perfect salmon for 100 people from a tent! You guys are amazing! Thank you so much for all you and your team did, our day would simply not have been so perfect without your service, Thank you!" Jen & Maxi